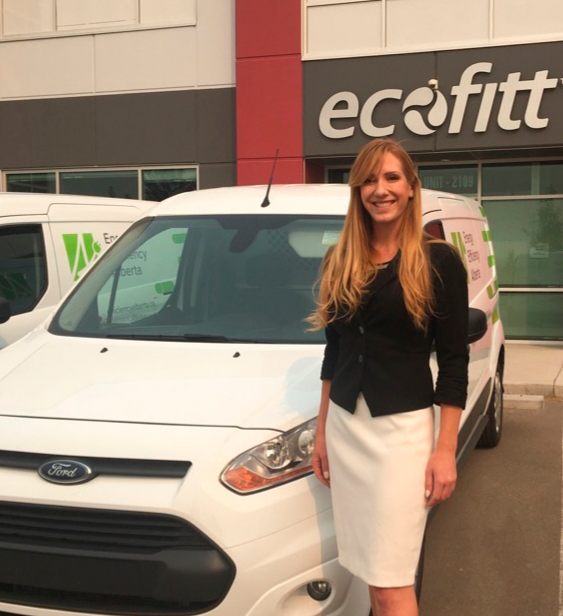 Christina Pidlaski was determined to carve out a career in energy sustainability. After working in California for 10 years, she returned to Alberta to be part of the clean energy transition.
"I never really knew how I could play my part," said Pidlaski.
She decided to pursue an MBA specializing in Energy Management and Sustainability at the University of Calgary. One of her courses involved a consulting project and she chose to work with the Canadian Coalition for Green Finance, which exposed her to green investment and research. A big part of her work was to communicate her research and make them accessible to investors and industry.
Nearing graduation, she found a job posting at Ecofitt, a Canadian energy efficiency company which began with a small staff of 15 in Calgary. Working closely with consumers on energy efficiency seemed too good to be true to her, but within a week she was working as the company's Program Coordinator.
Ecofitt runs energy conservation programs across Canada and works with provincial and municipal governments to develop regional programs. They also manufacture water and electricity-saving products, including light bulbs, which they use for direct install and kit programs.
Our workforce has been a crucial part of delivering this program, and will be indispensable in successfully completing the next
Ecofitt's first Alberta program working with Energy Efficiency Alberta's Residential No Charge Energy Savings Program (RNCESP), involved efficient upgrades for both rural and urban houses, apartments, and condos, where teams installed LED bulbs, faucet aerators, low-flow showerheads, power bars and smart thermostats.
As Ecofitt expanded, Pidlaski was promoted to Regional Program Coordinator, then again to Operations Manager.  At the peak of the RNCESP, she had 16 field coordinators and nearly 400 technicians working on her team, some who originally worked in oil and gas, but whose skills were easily transferable to energy efficiency. As the program nears completion, the team size has become more manageable, but the logistical challenges still keep her busy.
Pidlaski said the response to the program has been extremely positive.
"I can't tell you the number of people who have made the effort to call in or write in thanking us for not only the products we installed, but the interaction with our technicians and information about energy usage," she said. "I feel like it's been a huge success."
When Energy Efficiency Alberta (EEA) launched the RNCESP, which is administered by Ecofitt, Albertans registered 153,000 homes. As this one-time program nears completion, Ecofitt has delivered energy efficient upgrades to 118,000 of these homes and installed 28,000 smart thermostats.
Ecofitt has now been awarded the EEA contract for the Affordable Housing Energy Solutions Program, which will launch in September. This will reach 25,000 Albertans in vulnerable sectors using the same core team that carried Ecofitt through the RNCESP.
"Our workforce has been a crucial part of delivering this program, and will be indispensable in successfully completing the next," said Pidlaski. "I'm very proud of my team. We lucked out in getting fantastic people that care about the work we're doing.  Being able to mobilize such a great team is really what makes me love my job."